M CUBE SOLUTION CENTER
( "M Cube " = Mitutoyo, Measurement, Metrology )
Mitutoyo South Asia Pvt. Ltd. (MSA) M Cube solution centers are specifically designed to address the measurement related challenges from customers. Here, effective solutions to out of the ordinary requirements can be found through the company's products, in combination with consultations with MSA's metrology experts. At the M Cube Solution center visitors can view actual products, acquaint themselves with some of our technological capabilities and consult our sales staff. If they so desire, customers can be presented with concrete solutions plans through coordination with Mitutoyo's technical staff. By providing M Cube Solution centers across various locations in India and by having NABL certified technicians, MSA is in a position to best answer customers, issues relating to advanced measurement. Please visit any of our M Cube solution centers located conveniently at
NCR Region, Pune, Bengaluru, Chennai & Ahmedabad
for any of your metrology needs.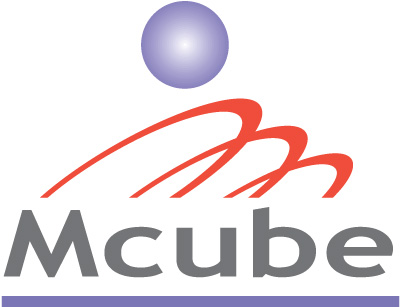 Book a Consultation with our NABL certified technicians
REPAIR & MAINTENCE
Mitutoyo South Asia Pvt. Ltd. (MSA) has a service system that uses specialized technology and support systems to allow the quickest possible service and the restoration of measuring equipment to top condition. MSA offers two modes of repair and maintenance services to our customers
---
---
CALIBRATION
High accuracy measurements can only be achieved if the instrument is periodically calibrated using traceable standards. Mitutoyo South Asia Pvt. Ltd. (MSA) standards are traceable to national NPL (India) and international standards such as NMIJ/JCSS in Japan or NIST/A2LA in USA.
MSA provides a calibration service in our calibration laboratory which has NABL accreditation according to the international standard ISO/IEC 17025:2017. Our service engineers are certified by NABL and are able to issue calibration certifications with the NABL logo to ensure the traceability to national/international standards. Furthermore, our CMC (Calibration Measurement Capability) in dimensional measurement is recognized as the finest of its kind in South Asia.
Through MSA's calibration services, customers can be rest assured that they will be getting the best in calibration services, traceable to national/international standards.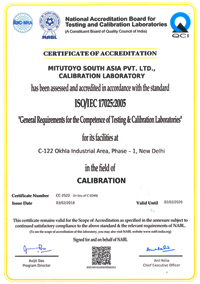 MSA offers two types of calibration services:

MSA calibration inbound

Slip Gauge Set
Calipers / Caliper gauge
Gauge Block Comparator
Height Gauge and Height Master
Dial Calibration Tester
Caliper Checker / Check Master
Mu- Checker
Digimatic Head
Coating Thickness Gauge
Thickness Gauge
Dial Gauge (plunger / lever) up to 100mm
Bore Gauge
Linear Gauge up to 100mm
Bevel Protractor
Ext/Int Micrometer-upto 2000mm
Feeler Gauge
Depth Micrometer / Caliper
Surface Roughness Tester
Standard Bar
Surface Roughness Speciman
V-Anvil Micrometer
Hardness Testing Machine in Vickers / Rockwell
Linear Height Gauge(2D)–L.C: 0.0001mm
Force Verification in Vickers

On site NABL accredited service Calibration

Microscope
Contour Measuring Machines
Profile Projector
Linear Height Gauge (2D) - L.C: 0.0001mm
Quick Scope / Vision
Hardness Testing Machine in Vickers / Rockwell
Surface Roughness Testers
Force Verification in Vickers
Surface Roughness Specimen
Coordinate Measuring Machines (CMM)
Roundness Testing Machines
Gauge Block Comparator
Personal Information Protection Policy
CONTACT CENTRES
HEADQUARTERS SOUTH ASIA
Mitutoyo South Asia Pvt. Ltd. C-122, Okhla Industrial Area, Phase-I, New Delhi-110 020.
Sales
:
delhi@mitutoyoindia.com
Service
:
Major Items | Small Tools
Tel: (91) 11-26372090/40578485/86
Fax: (91) 11-26372636
OTHER LOCATIONS